Magic moths are lots of fun. When your moth is made you can make it hover with just its nose resting on your fingertip, the rim of a glass, or even the point of a pin.
Click on the moth to pop-up the full-size image, download it, and then print it out onto thin card. The 18cm (7in) wing span is ideal, but it will work whatever size you make it. Cut around the outline. Colour it in or decorate it if you want to.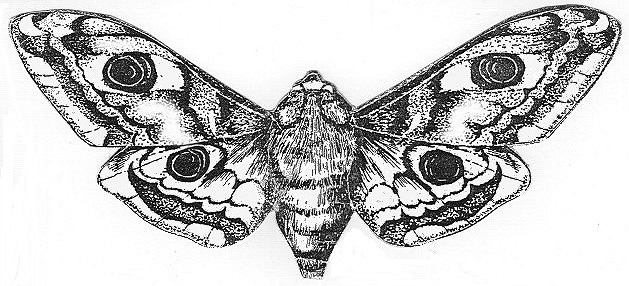 Now you just have to add a small weight underneath both wing tips. The easiest thing to use is a little blob of
blu-tack
(
tack-n-stick
). You could also try using small coins, buttons, or magnets, sticky-taped under the wing tips. Blobs of hot glue would likely work too. Or you can slip paper clips onto the tips.When you have the weights attached, put your fingertip under its nose and see if it balances as if its hovering. If the weights are too heavy the wings will droop too much, and if they are too light the moth will fall off your finger. If one wing is heavier than the other, of if you have not placed the weights symmetrically (in the same spot on each tip), the moth will pull to one side and fall off. Make small adjustments until its balances easily.Now you can run around the house seeing all the different amazing places you can balance your moth. These make cool presents!
This pattern was scanned from a 'magic moth' I have had for many years, and I can't find any attribution on it to pass on. If you want to, you can just use the outlined shape and draw in your own wing patterns. You can also try changing the shape a little to make a balancing butterfly or bird.
You may see this trick in other forms: you can buy plastic balancing birds, and balancing wine bottle holders. I've also seen a gravity defying frog pattern.