Nasturtium leaves are very cool to mess around with. Pick a large nasturtium leaf, and try to catch some water in it. Something about the surface of the leaf resists the liquid completely, so that the water forms into beautiful round silvery drops that race around and off the leaf before you know it. They behave like mercury (have you ever broken a mercury thermometer?), but are not poisonous like mercury.
Catching the water is fun itself, but then you can try to see how big a drop your leaf can hold. Or see how many small drops its possible to accommodate on your leaf, since the moment two drops touch, they become one bigger drop. Or you can run races and see who can go furthest and fastest before your drop slips out of the leaf.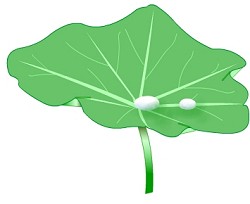 I know an elderly man who recalls riding to school on a horse, and stopping on the way to pick young nasturtium leaves to put between slices of bread for his lunch. The leaves have a really nice peppery taste, and are high in vitamin C. You do get more sophisticated
nasturtium sandwich
recipes, and there are
numerous ways
to use the flowers and leaves in cooking and medicine. The whole plant is edible and regarded as a herb. The seeds can be
pickled
and substituted for
capers
. And, of course, the flowers themselves are the most beautiful oranges,
reds
and yellows.