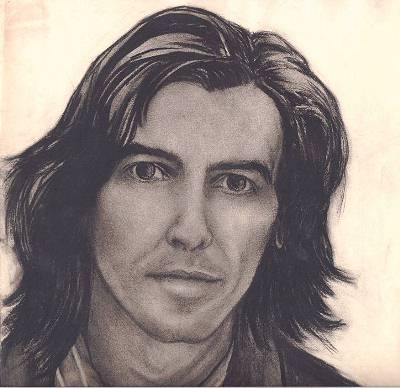 (My teenage drawing of George)
Freecycle is pretty cool, isn't it? A freecycler just called at my door to take my box of Beatles newspaper and magazine clippings. It feels good to have given them to someone who really wants them, as I'm not interested in the clippings anymore.
The collection included some Beatles Monthly magazines, a few posters, some ghastly half-photo half-drawing portraits that Mobil service stations must have been giving away in 1964 and other amusingly dodgy promotional material, and accounts of their notable visit to Adelaide. Their biggest crowd ever, at 300,000 people about a third of Adelaide's population at the time, lined the route from Adelaide Airport to the city. Unfortunately I wasn't there, as I was just a bit young. I remember looking at the ticket queue with curiosity and maybe a little longing though – it must have been important to me if I cut articles out of the newspaper.