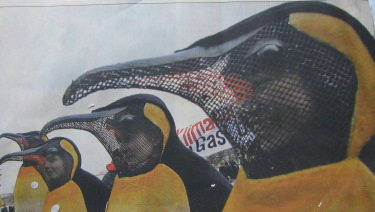 These penguin masks, being worn outside the UN Framework of Climate Change Conference in Bali last November, interested me because I liked the way the coarse gauze was so effective, while not hiding the faces. The photo is taken from our newspaper at the time, via Associated Press.
I've always thought a cool way of making a penguin character would be to have a head mask, but then wear a tuxedo as the rest of the costume, letting people make the penguin suit connection themselves. However no-one has ever taken me up on the suggestion!
We turned our lights off for Earth Hour tonight. It was a beautiful clear starry night.