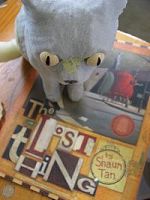 InFrame.tv has produced a great 5 minute documentary with Shaun Tan which offers an introductory glimpse at the work-in-progress on his short animated adaptation of  The Lost Thing. It includes little (unfinished) animation clips, and aspects of designing and directing the work. On his website Shaun also writes about his involvement and includes some interesting new sketches and models. I noted the film in 2005, so it is exciting that it is expected to be finished this August!
The film, by Passion Pictures, will be 15 minutes long, and uses CGI with 2D handpainted elements. I'm interested in the comments about achieving rich textures, as they are so much part of the illustrations, and CGI is often so disappointingly smooth and shiny.
I'm happy to see a new book, too: Tales from Outer Suburbia.
I worked on the puppets for Jigsaw Theatre Company's production of The Lost Thing a few years ago, so you will find numerous related previous posts here:
Also: The Lost Thing website