This is a giant remote control snail that I recently made for The Fool Factory for their promotion of National Science Week 2011. It's about a metre long, fitted onto the chassis of a remote control car, and has eyes that move from side to side. It's made to look somewhat like Australia's largest land snail, the Giant Panda Snail, which inhabits sub-tropical forests in Queensland.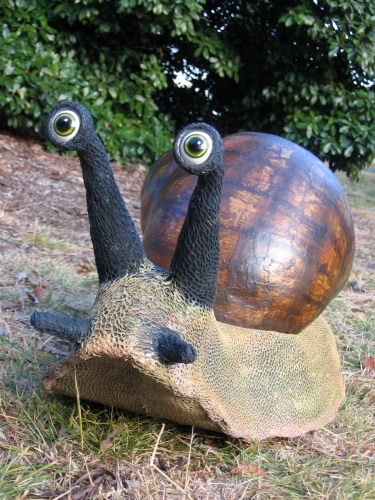 I've posted photos of the making process. The shell is shaped polystyrene layered with  paper mache, and then painted. The body is made from thin PE foam sheeting covered by a strange irregular and stretchy netted fabric which I used for the skin texture, then painted. Inside the snail there is a cage that separates and protects the body from remote control chassis, and a small aluminium structure that holds the servo motors that rotate the eyes.
I'm also like the following picture of the snail in my studio, although it reminds me of when we first moved into our house and there was a small crack by the back door where leopard slugs used to come in during the night to eat the cat food in the laundry! Worse was when they used venture further into the house and we could accidentally tread on them barefoot if we were up in the night tending babies – eew!