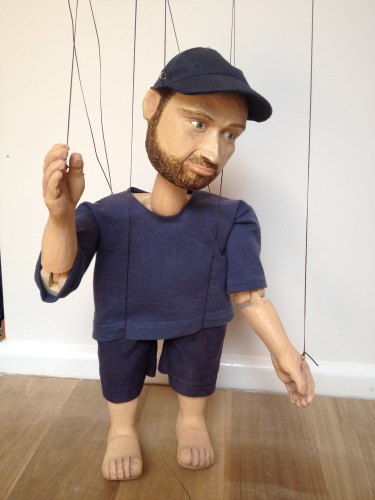 Towards the end of last year I was commissioned to make a marionette which was to look like, and be a Christmas present for, my clients' son. They provided a few photos, and seemed pretty happy with the likeness when they picked it up.
For various reasons I was swayed to try carving a wooden puppet. It seemed a good learning challenge, and  I'd recently been inspired by Kay Yasugi's marionette carving workshop in Prague.  How cool would it be to do a workshop like that! And there were practical reasons, too;  in particular, short hair and a short beard is hard to represent well, and I thought the stippling of the wood would be a good and minimalist way of doing it, which proved right.
I was delighted to find that Puppets in Prague not only runs workshops, but has really detailed puppet making tutorials online – a wonderful resource!  I used  jelutong timber, a good substitute for the recommended  but hard-to-get Linden or English Lime. I found the exacting woodwork for the body difficult, especially without a band saw, and I didn't get things lined up perfectly. But I really enjoyed the carving! Puppets in Prague offer ready-made components in their online shop and another time I think it could be worth my time to buy those and concentrate on the carving.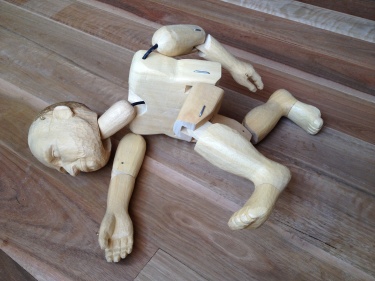 The online tutorials didn't detail exactly how the puppets were stringed to the controller. Kay at Pupperoos very kindly set me straight and sent me photos of how her puppet was stringed. Many thanks, Kay!
There are some making photos in my Flickr photoset.