The cost of painting a king salmon on the fuselage of an Alaskan Airlines 373 has been roundly criticized, but the image is pretty cool. The designer was Mark Boyle, a Seattle-based wildlife artist who is also a recognized leader in the livery design of commercial aircraft. Alaskan Airlines has some pictures that show the painting in progressive stages, which took a crew of 30 painters 24 days.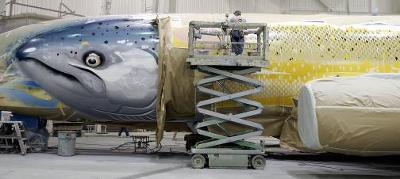 The image above was taken by Ted S. Warren for Associated Press, and shows airbrush artist Chris Coakley at work on the painting.
I was just then reminded of this wonderful image of Aragorn. It takes a second to work it out. It appeared on the side of a NZ Boeing as part of celebrations around the release of the last of the Lord of the Rings trilogy of movies.
Updated 2015: broken links. Also, there is a second version as of 2012, called the Salmon-Thirty-Salmon II: