It sure was a happy night last night – after all the nail biting of the last few days and the start of the count last night, the John Howard era has come to an end!
Shan sent me his last election puppetry video, Howard's Way, yesterday, but I must admit it felt too much like tempting fate to post it then!
Shan might have the first Rudd puppet out there: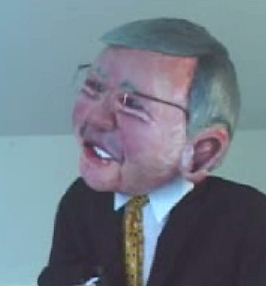 Of course, now I have to decide what to do with my own two Howard puppets. They are too toxic to burn (just like the real thing, really!). I'm going to close my Vigil blog, but the puppet, which started out as an anti-war one, remains, as does the scarecrow one I made as a protest against the Howard government's refugee policies. Any suggestions?
Previously: