After hearing Adrian Kohler talking about Handspring Puppet Company's War Horse at UNIMA 2008 in Perth, I made a special point of seeing it in London later that year when I was travelling. It was remarkable and wonderful.
Since then War Horse has been much celebrated, and has played to increasing audiences, moving from the National Theatre to the West End, and then to Broadway. Most recently it has been staged in Toronto, and, excitingly, it will be in Melbourne's Arts Centre in December this year.
I think the TED talk above is the best demonstration of the puppets I've seen outside the theatre. Despite their impressionistic construction with movement, breath and emotional gestures they become breathtakingly alive. (Eric Hart linked to this great infographic by Trish McAlaster on how the puppets work.)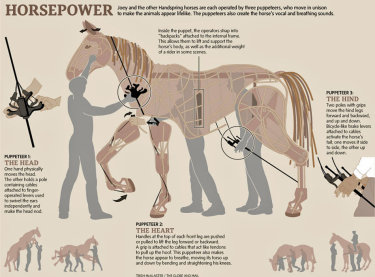 The horse puppets get most of the interest, which is natural, but there's also a lovely puppet goose, and an enormous tank that comes on stage, rolling up over a barricade, and rearing over the audience. I really don't know how they did that! And I also enjoyed the music and loved the minimalist set, essentially a suggested torn piece of paper above the back of the stage, on which simple animations were projected from time to time.
The attitude towards war in the play is unusual, slipping past taking sides, who is in the right or wrong and strategy, and emphasising rather how the horses' fates are completely subject to the capricious needs and circumstances of humans.
By now War Horse has been made into the inevitable Spielberg movie, which I somehow don't feel any particular need to see. (For fun take a look at Lisa Hanawalt's illustrated review). I'm inclined to think that I would agree with Emily Landau's article Why war Horse's puppets win by flaunting their artificiality. Apparently an animatronic horse was used for a few seconds for humane reasons in one scene in the movie. I caught a glimpse of this on YouTube a few weeks ago but the video has since been withdrawn.
Lastly, I love the illustration of the Handspring puppets by Byron Eggenschwiler accompanying Landau's article.